Training Packages with E-Learning
Training Packages with E-Learning. The starter sets are put together by us contain all necessary equipment, digital work orders (E-Learning) and accessories for a learning topic. This means that they are immediately ready for use without the need for additional material.
The packages have been put together for an optimal introduction to an area and can be extended at any time to cover additional topics.
E-Learning provides highly interactive theory modules that now combine with practical e-learning modules - designed to teach students both how to use the trainer and providing hands-on learning activities - with a variety of THEPRA trainers. The LMS tracks student progress in order to put real-time feedback at the student and teacher's disposal. This combination of e-learning and THEPRA trainers changes the learning environment, allowing students to work much more independently, giving students and teachers useful performance feedback and helping to dramatically reduce the "theory versus application" gap.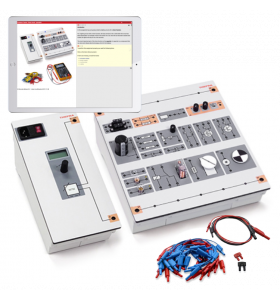 There are no products to list in this category.